How to Increase the Surface Traction of Your Floor Paint
Posted by Dane Ings on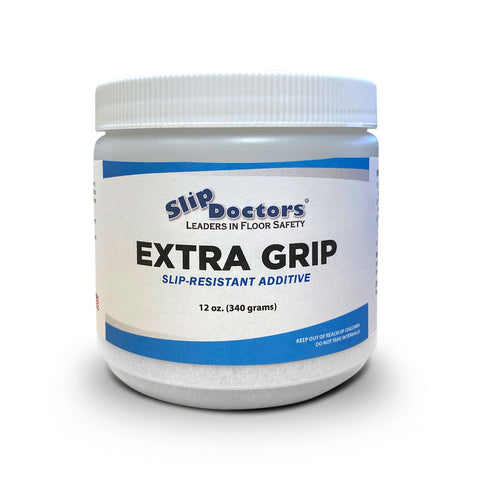 Changing the surfaces around your home or business can quickly enhance the appearance of your property. By simply adding a unique coating or layer of paint, you can efficiently change the look of your interior and exterior spaces, while making it more durable. But before you treat your floors, you have to consider its slipperiness. You don't want to make sleek floors even more slippery by adding a layer of paint. 
There are many ways of making floors more slip-resistant. However, not all methods are equally effective or cost-efficient. One way that is both affordable and requires little effort, is increasing the traction of your floor paint before you apply it to surfaces. 
Let's explore why you should increase the traction of your floor paint before you treat surfaces:
Why you should increase the traction of your floor paint
Most paints do not include a non-slip additive in the formula. This means that when you apply it to your floors, it simply adds a slippery layer to the surfaces. You can add another layer of non-slip coating over the paint, but this can be expensive and time consuming. Ideally, you should make the paint more slip-resistant before you apply it. 
How can you make your paint more slip-resistant? 
There are a couple of ways you can add traction to paint. These include:  
Besides being an effective bonding element, sand is a useful ingredient to increase surface traction. For this method, you do require a specific formula and have to use a certain type of sand to get the balance just right. If not mixed properly, it can lead to uneven surfaces and even chipping over time. 
Adding anti-slip additives
Anti-slip additives are specifically designed to increase the level of surface traction produced by a coating or paint. These products typically contain granular particles such as plastic, glass or garnet. It comes with instructions to ensure you add just the right amount to your paint to avoid uneven surfaces. These additives are available in a range of sizes and styles that will add a course slip-resistant finish to almost any surface.
At SlipDoctors, we recommend using Extra Grip, a non-skid paint additive designed to reduce the slipperiness on both indoor and outdoor surfaces.
What makes Extra Grip ideal to increase traction?
Extra Grip is a product designed to create a skid-resistant coating on surfaces and can be used with most epoxy, urethane and acrylic coatings. It works by mixing it with floor paint before application. 
Extra Grip can be mixed with water or solvent-based coatings to help quickly and effectively increase traction. It will not change the color of your floors.
This paint additive is a great product to use with most paints, however, it is important to note that it cannot be used with clear coatings. 
Take your coating from high to maximum traction
If you want to get maximum traction from of your coating, Extra Grip is ideal. It works well with Dura Grip anti-slip paint coating to treat all types of indoor and outdoor surfaces, including steel, fiberglass, aluminum, concrete, asphalt, painted surfaces, wood, courts and wood decks.
Benefits of Extra Grip 
It can increase the surface traction on painted floors
It is easy to use and offers a lasting finish
It is a cost and time-efficient solution
It greatly improves safety and creates a non-slip surface.
Transform your floors while adding traction 
One of the easiest ways to change the look of your property is by painting the floors. However, you have to keep its slipperiness in mind. You don't want to be left with sleek floors that require extra coatings to increase slip-resistance. An easy and affordable method to avoid this, is by adding a quality paint additive to your floor coatings. It will help you to change the look of your floors without compromising on slip-resistance. 
If you require more information about how to increase the traction of your paint or want advice on your floors, talk to the expert team at SlipDoctors. We will answer your questions and help you to find the right solution for your surfaces. 
---
Share this post
Facebook
Twitter
---
---
---
0 comment