Your Guide to Floor Safety
Posted by Dane Ings on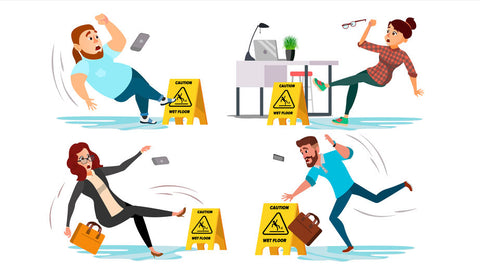 Whether you own or manage a commercial, residential or industrial property, each premise has its own unique challenges when it comes to floor safety. An important part of owning or managing a property is ensuring the safety of the people using the premises. Therefore, you have to evaluate the slipperiness of your floors and find a suitable solution to the unique conditions. 
Before evaluating any 
slippery surface
, you have to ensure it is clean. Moisture, debris and other loose objects can increase the slipperiness of your floors. Contaminant build-up can accumulate on surfaces, potentially increasing the risk of slip-and-fall accidents. 
Once your floors are clean, you have to consider the following questions to establish which product to use to treat your floors:

What type of floors (wood, stone, vinyl, porcelain tiles, etc.) you have.

If wet conditions present.

If the area gets high or low traffic?
How to treat slippery surfaces
Once you have evaluated your floors, you can start to look at suitable products to achieve slip-resistant flooring.

For tiles, concrete and stone
For these types of surfaces, you ideally want to create microscopic threads on the surface to increase traction. You also want something easy to maintain.

For these surface, we recommend Stone Grip, a slippery surface coating designed to dramatically increase traction and improve safety on slippery floors even when wet. It can be used on both indoor and outdoor surfaces and is very easy to apply.
Food vinyl and wood floors 
Especially for interior floors, you may not want to change the appearance of the surfaces. You also want a product that is safe and comfortable for bare feet and pet paws. 
For these type of surfaces, we recommend 
Floor Grip
. This product is a clear, water-based urethane sealer designed for creating a non-skid 
slippery surface coating
 on interior floors. It is an effective solution for human feet and dog paws to prevent slipping.
For all weather conditions
If you have a commercial or industrial property where your floors are often exposed to wet conditions or high UV exposure, you need an aggressive and highly textured anti-slip finish. 
We recommend Tuff Grip. This is a non-skid urethane paint coating that can withstand all weather conditions. It can be used indoors and outdoors on a variety of surface types including metal, concrete, previously painted concrete and wood.
For steps and stairs
One of the areas where slip-and-fall accidents happen most often is on steps or stairs. For these areas, you need a solution that can offer a durable and abrasive texture.
For steps and stairs, we recommend adhesive safety tape. This tape is made from durable aluminium oxide formulation that is long-lasting in any weather condition and resistant to water and many chemicals. It is very easy to apply and provides a strong adhesive backing with an abrasive texture.
Avoid accidents by treating your floors 
As a property owner, it is your responsibility to ensure your floors have the needed traction to keep friends, family, staff and clients safe. If you are unsure about which product is right for you, you can contact our expert team. We have all the knowledge and skill needed to assist you with achieving slip-resistant flooring.
---
Share this post
Facebook
Twitter
---
---
---
0 comment