Blog — Stone Grip
Posted by Brian Teitell on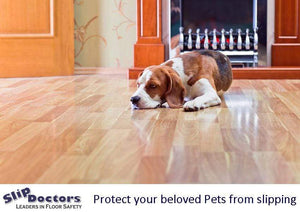 Your pets are part of the family. Therefore, it's important to consider them in the accessibility of your home. Every year, vets must treat many pets with injuries from serious slips on sleek floors. Dogs and cats' paws aren't made to walk and run on sleek, hard surfaces. Many pets struggle to walk and run on slippery floors and this can lead to dangerous falls. Especially, tiles, vinyl and laminate flooring, as well as stairs can lead to slips, slides and falls. It's important to keep your four-legged friends in mind when it comes to the flooring in your home....
Posted by Kevin Kohleriter on
Regan Scientific Instruments provided a BOT-3000 to assist Texas Tech University an independent study with 5 competitors for anti-slip treatments to evaluate the percentage of traction increase from one product to the next.SlipDoctors outperformed all competitors by 20%! The results are in!SlipDoctors' Stone Grip (shown as Anti Slip Solution) outperformed the competition by over 20% with 100% improvement in Wet DCOF!