Have Slippery Natural Stone Tiles Around Your Pool? Here's How To Fix It.
Posted by Dane Ings on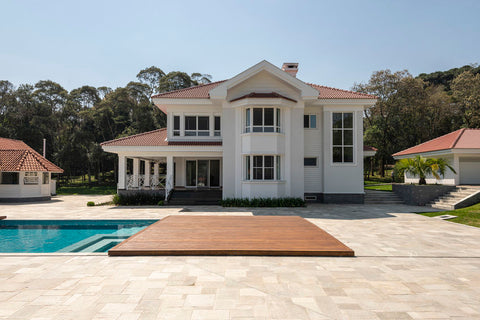 Besides being a beautiful addition to any pool area, the advantages of installing natural stone tiles extend beyond enhancing the aesthetic charm of your backyard. These tiles can be sealed without changing the look of the surface and are typically around 20% cooler than concrete pavers. However, even when sealed, natural stone can be slippery when wet. Therefore, it is important to invest in pool deck anti-slip coatings specifically designed for certain conditions if you want to keep your patio and pool area safe for use by your loved ones.
How to fix slippery natural stone patios
Natural stone gives a slick, contemporary look to a patio. But if your patio is close to the pool and often gets wet, it can become very slippery and lead to serious accidents.
So, which type of products can be used to treat slippery natural stone patio and pool deck surfaces?
Before choosing a product, you must consider your specific requirements and desired outcomes. You cannot opt for an indoor-only solution for your outdoor patio. And if your patio often gets wet from people exiting the pool, you have to choose a product that works on wet surfaces.
At SlipDoctors, we recommend Stone Grip for tiled patios and pool deck surfaces that often get wet. Stone Grip is designed to increase traction on slippery natural stone tiles in wet barefoot or shoe conditions. It works by creating microscopic treads to dramatically improve traction on surfaces in just minutes. Another benefit is that it will not change the appearance of tiles.
It's also important to keep in mind that you require a specific treatment for patio and swimming pool deck surfaces that have already been sealed.
Pool deck anti-slip coatings for sealed tiles
If your tiles have already been sealed, the following product can be used to improve the slip-resistance of tiles:
Dura Grip is an
epoxy treatment designed to create a durable non-slip coating on tiles
. It is easy to apply and once dried, has a semi-gloss finish. It is also completely resistant to chlorine and chemicals, which makes it a great option for swimming pool areas. This
pool deck epoxy coating
is comfortable to walk on even with bare feet.
A popular choice for homeowners when it comes to choosing the type of tile to use around their pool area is travertine tiles. These natural stone tiles can add a stunning feature to any outdoor area. Unfortunately, few consider how slippery these tiles can be, as it is often advertised as a low-slip product. For travertine tiles, we recommend the following product:
Deck Grip is a versatile outdoor non-slip coating. It is easy to apply and results in a clear, semi-gloss and barefoot-friendly finish. Another major benefit of Deck Grip is that it is resistant to UV and chlorine, making it the perfect solution for patios and swimming pool areas that get a fair amount of sun.
Treat your slippery patio and swimming pool deck surfaces today
Have questions about our products or require advice on the right solution for your slippery surfaces? Contact our expert team today.
---
Share this post
Facebook
Twitter
---
---
---
0 comment