Your Guide To Treating Slippery Vinyl Floors
Posted by Dane Ings on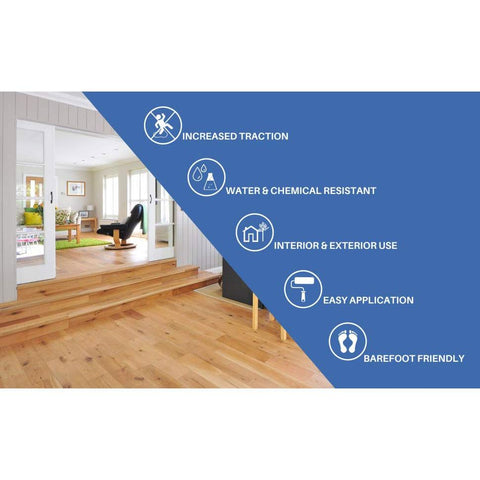 Your guide to treating slippery vinyl floors 
While vinyl is a popular type of flooring because it offers an aesthetically pleasing look to your property, they hold a fair cost. Their lavish appearance often makes homeowners compromise on their slippery nature. Because these floors are made of sleek polyvinyl chloride, they can lead to dangerous slipping accidents if proper precautions are not taken. In this guide, we discuss the most effective solutions to getting non-slip vinyl floors. 
When is the right time to fix vinyl floors? 
Vinyl floors are naturally slippery, so the best time to fix it is as soon as you install it. If you have older vinyl floors, they may be even sleeker with cleaning product and polish build up on the surface. So, the sooner you find a non-slip solution, the better.  
How to get non-slip vinyl flooring in and around your property
There are many ways to treat slippery floors, but not all of them are effective for vinyl flooring. It is important to find something that works well on polyvinyl chloride, are long-lasting and easy to install or apply. 
Avoid products that aggravate the floors
Moisture, grease, dust, floor polish and soap are among the major causes of slippery vinyl floors. As a start, you should avoid or limit the presence of these products on your floors as much as possible. However, it's not always possible to eliminate them completely. Therefore, you require an additional solution to treat your floors to decrease its slippery nature. 
Use a degreasing agent
Some areas, such as your kitchen and garage, may be exposed to more oil and grease than others. Unfortunately, usual floor cleaning methods will not be enough to get rid of these stubborn grease stains. Instead, you can use a degreasing agent to remove oil and grease on the affected areas. But it is important to note that this is not a long-term non-slip solution and is only effective to remove grease.
Use a polish made specifically for vinyl floors
The wrong kind of polish can build up a slippery layer on your vinyl floors. To avoid this, it is wise to invest in a polish specially made for vinyl floors. Most polishes are easy to apply and will add a glossy look to your floors, but it shouldn't be used as a complete anti-slip treatment for vinyl flooring, as it still produces a sleek layer on surfaces. 
Use anti-slip mats
Anti-slip mats are another option for slippery vinyl floors. Most anti-slip mats come with rubber bottoms that won't easily slide or move. However, it is not always possible to cover all surfaces with mats and it will cover up your beautiful floors. Therefore, it is not ideal for large surfaces or if you want to keep your vinyl floors visible. 
Add an anti-slip coating for vinyl flooring
Anti-slip coatings are specifically designed to provide increased slip-resistance on floors without changing the look. It is an easy and cost-effective solution.  
Floor Grip is a roll-on anti-slip coating for vinyl flooring. When applied, it offers a durable high-traction surface that is both scratch and chemical-resistant. It can be used on both interior and exterior floors and is also effective to produce non-slip vinyl flooring for wet rooms. It is available in a gloss or matte finish to suit your floors' look.
Add a non-slip spray

Non-slip sprays are an affordable option to consider if the slippery area is relatively small or uneven. 
Extra Fine Clear Spray is an epoxy aerosol spray that provides a clear, hard, finely textured finish on both interior and exterior vinyl floors. It is easy to use, barefoot-friendly, chemical-resistant and almost invisible when applied. They are effective, pocket-friendly and guarantee waterproof non-slip flooring results. 
Benefits of non-slip treatments for vinyl floors 
Easy to apply

Long-lasting

Won't change the appearance of floors 

Affordable
Additional Tips 
Even with a non-slip treatment, it is important to keep your vinyl floors clean at all times. This is because dirt and chemical residue may build up on the surface and make it sleek and slippery. You can use vinyl floor cleaning products in limited quantities and clean it off with a damp mop. It is also important to ensure it is completely dry before use. 
Treat your vinyl floors today
As a home or business owner, you must ensure that your floors are always clean and slip resistant. It may seem like a daunting task to achieve, but once you have the right product, you can treat your floors quickly and easily. A non-slip vinyl coating is a great solution as it is easy to apply, dries quickly, won't change the appearance of your floors and adds plenty of traction. 
Need help to choose the right product for your floors? The expert team at SlipDoctors is ready to assist you with any questions or advice you may need. 
---
Share this post
Facebook
Twitter
---
---
---
0 comment