How To Make Your Laminate Floors Less Slippery
Posted by Dane Ings on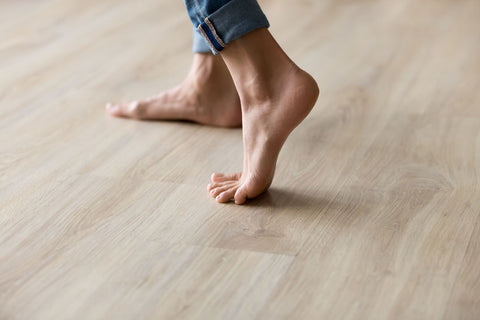 Laminate floors are a popular choice among home or business owners as it gives a property a sought-after hardwood look without the expensive price tag. But these surfaces also tend to be very slippery and can create a slip-and-fall hazard for anyone using it, including pets. Luckily, there are several ways to achieve non-slip laminate flooring, including investing in effective anti-slip coating for laminate floor products.
What to consider before choosing an anti-slip coating for laminate floor product
A few factors need to be considered before deciding on the right solution for your floors. If you often walk barefoot on your floors or your pets use the area, you want to go for a product that is suitable for these situations. It is also wise to keep in mind whether the area is indoors or outdoors because most products are designed for specific conditions.
The first thing you need to achieve non-slip laminate flooring is to ensure that your floors are properly cleaned. Laminate floors can quickly collect dust and debris that can make the surfaces even more slippery. You can use a soft-bristle broom or dust mop to sweep up any particles before investing in a slippery laminate floor solution.

At SlipDoctors, we recommend the following two solutions for laminate floors:
●    Floor Grip - Non-Slip for Vinyl & Wood Flooring
Floor Grip is a clear, water-based urethane sealer designed for creating an anti-slip coating. It can be used on interior and exterior wood, vinyl, vinyl composition tile (VCT), cork, laminate, linoleum surfaces, engineered wood, concrete, epoxy floors and more. It is a great solution for human feet and dog paws to prevent slipping.
Floor Grip dries quickly and is available in a gloss or matte finish.
●    Extra Fine Clear Anti-Slip Spray for Wood
The Extra Fine Clear Anti-Slip solution is an epoxy aerosol spray. It provides a clear, hard, finely textured finish on interior and exterior wood, linoleum, and vinyl surfaces. When applied, it is virtually invisible, barefoot-friendly and paw-friendly. It is easy to apply and the perfect solution to treat small or irregularly shaped surfaces.
Ready to treat your floors?
Now that you know how to stop laminate floors being slippery, you can evaluate your own floors and decide which product is best for you. As a home or business owner, it is your responsibility to ensure your family, guests, staff and pets are safe from slip-and-fall accidents.
Speak to the experts at SlipDoctors
to help you identify the right treatment and method for your floors. We will help you to evaluate your surfaces and find the right solution that will suit your budget.
---
Share this post
Facebook
Twitter
---
---
---
0 comment