How to Fix Slippery Enclosed Trailer Floors and Truck Bedliners
Posted by Dane Ings on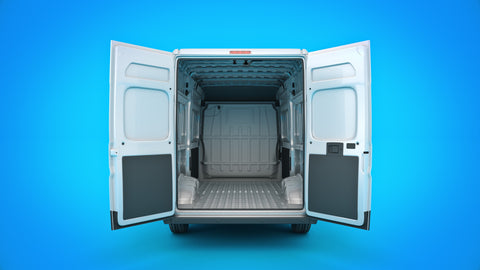 Enclosed trailers and truck bedliners are designed to transport various types of cargo, from machinery to livestock. However, these areas can be quite slippery, making it challenging to load and unload cargo and putting occupants at risk of injury. Fortunately, there is a solution - anti-slip epoxy paint. 
Why are trailer floors and truck bedliners so slippery?
Enclosed trailer floors and truck bedliners are often made from diamond-plate metal, which can become slippery due to moisture, dust and other debris that accumulate on their surfaces. This can make it challenging to transport goods safely and increase the risk of accidents and injuries.
Why is it important to treat these areas? 
Surfaces that are treated with a non-slip solution can help prevent accidents from occurring. Non-slip epoxy semi truck floor paint can provide a cost-effective and durable solution for making trailer floors and truck bedliners safer. By using this epoxy enclosed trailer floor paint, you can reduce the risk of cargo sliding around in transit and help prevent injuries to yourself or others who may be loading or unloading the trailer.
What products are best for enhancing traction in these areas? 
One product that stands out for enhancing traction on trailer floors and truck bedliners is Dura Grip by SlipDoctors.
This anti-slip textured paint is specifically designed for diamond-plate, metal surfaces, providing a long-lasting and slip-resistant finish. Dura Grip is an extremely tough and durable paint that can withstand high traffic. 
You may be wondering what colors does epoxy paint come in. Dura Grip is available in a variety of colors, including black, clear, dark brown, light gray, medium gray, safety blue, safety yellow, safety red, sand and white. This allows you to choose the color that best suits your needs and complements the design of your trailer or truck.
 Additionally, SlipDoctors offers a Paint Primer that is ideal for preparing surfaces for painting. This primer helps ensure that the paint adheres to the surface properly and creates a strong bond between the surface and the paint.
Invest in enhanced safety and durability today 
In conclusion, treating trailer floors and truck bedliners with non-slip epoxy paint can provide numerous benefits, including increased safety and improved longevity of your vehicle. 
To learn more about Dura Grip enclosed trailer floor coating and the Primer for epoxy floor surfaces from SlipDoctors, visit our website or contact our team for further assistance. With our expertise and quality products, you can create a safer and more durable trailer or truck bedliner for all of your cargo transportation needs.
---
Share this post
Facebook
Twitter
---
---
---
0 comment