Solutions for Slippery Ramps in or Around Your Workplace
Posted by Customer Support on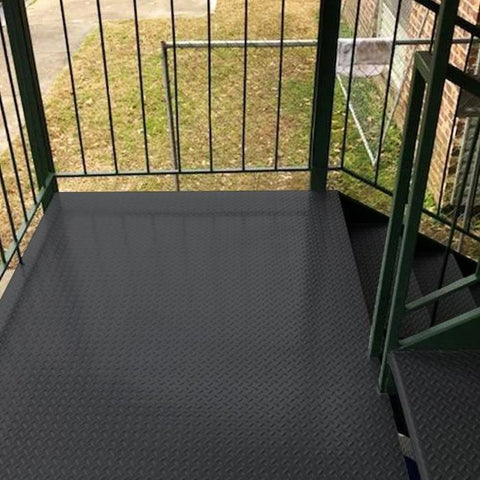 As the owner or manager of a commercial or industrial business, you know that there are plenty of areas in and around the property that require extra attention to avoid accidents. Probably one of the most dangerous areas is a slippery ramp. Because of its sloped surface, ramps often cause major slips and falls.  
Certain ramps may only be slippery after rainfall or accidental spills, while others may have a permanent sleek surface. However, no matter the situation, it poses a serious risk for anyone using it. Should someone slip and fall, it can lead to serious injuries, large hospital bills and even lawsuits. To avoid this, you require a solution that is durable and can withstand all weather conditions. Let's look at a few solutions for slippery ramps: 
Solutions for slippery ramps
Anti-slip tape for ramps 
When you want to increase the traction on your sloped surfaces, an excellent solution is anti-slip tape for ramps. This type of adhesive safety tape is long-lasting, can withstand any weather condition and is resistant to water and chemicals. Most anti-slip tapes are easy to apply to surfaces and require no maintenance. 
Anti-skid material for ramps
Anti-skid material for ramps includes rubber mats and PVC rug pads. These may seem like effective solutions, however, there are certain things to keep in mind, for example, a rubber mat or rug isn't always correctly installed and can move with time. This can lead to even bigger slip-and-fall accidents. These mats and rugs also have to be replaced often, which can be expensive in the long run. 
Anti-slip paint and coatings 
There are several paint and coating products available on the market, including anti-slip paint for wood ramp and anti-slip paint for metal ramps, that can be used to treat slippery sloped surfaces. These products are designed to be highly durable and to increase traction rapidly.
For concrete ramps
Stone Grip Non-Slip Tile Treatment 
is designed to dramatically increase traction and improve safety on slippery floors - even when wet!
Stone Grip is an easy-to-apply slip solution that creates microscopic treads to increase traction on tiles, concrete and stone floors in minutes
. This durable product is ideal to fix a slippery ramp in or around an industrial or commercial property.
For aluminium diamond plate ramps 
Dura Grip High-Performance Non-Slip Epoxy Paint 
is specifically designed to provide a hard, durable barefoot-friendly textured paint finish on surfaces. It is the ideal
product for use on aluminium diamond-plate metal, concrete and wood ramps where anti-slip protection is required
. Dura Grip is a tough and durable paint that is perfect for both commercial and residential areas.
Tuff Grip Aggressive Traction Non-Skid Floor Paint 
is designed to provide an aggressive and highly textured anti-slip finish on surfaces. This
urethane paint coating can withstand all weather conditions and is ideal for use on metal, concrete and wood loading ramps where high traction is needed
.
For wood ramps  
Floor Grip Non-Slip for Vinyl & Wood Flooring
 is an exclusive roll-on anti-slip coating designed for creating traction on interior and exterior wood and vinyl surfaces. Floor Grip provides a durable high-traction coating that is both scratch and chemical resistant. This product is
ideal for hospitals, hotels or any facility that requires slip resistance and a lustrous sheen
.
Safeguard your workplace by treating your slippery ramps 
Ramps come in many shapes and sizes, from building access wooden ramps to aluminium threshold ramps for factory workers. No matter the type, size or style of the ramps in and around your property, it is a slip, trip and fall hazard. To reduce the risk of accidents, you need to invest in anti-slip paint for metal ramps or anti-slip paint for wood ramps. An effective non-slip solution will increase the traction on your sloped walking surfaces and keep your staff, customers and other stakeholders safe. 
If you have a question around how to make a ramp not slippery, please contact the expert team at SlipDoctors. We can assist with expert advice and assistance to ensure you invest in the right products. 
---
Share this post
Facebook
Twitter
---
---
---
0 comment