Safety at home: How to fix a slippery driveway
Posted by Dane Ings on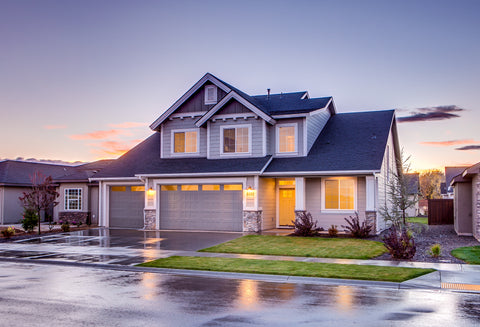 Your driveway is the main entrance to your property and a great aesthetic element to your home. However, the type of surface you choose for your driveway, combined with certain weather conditions, can increase its slipperiness, leading to dangerously sleek surfaces. This can raise the chances of serious slip-and-fall accidents and can also lead to car tyres sliding, especially if you have an inclined driveway. Luckily, a slippery surface such as brick and concrete can easily be treated to increase traction and lower the risk of slipping accidents.
How to increase traction on your driveway's slippery surface 
There are a few ways to increase the surface traction of your driveway. However, before investing in any floor safety solutions, it is important to consider your requirements and budget. Ask yourself if you are looking for a low-cost method that offers more short-term results or a long-lasting solution that offers value for money.  
Brooming
If you have a concrete driveway, you can use a broom to add a textured finish to the slippery surface. This is an easy method, but not always effective. In colder months, water can get stuck between the grooves and increase slipperiness. Brooming can also be expensive if you consider the cost of an extra layer of concrete. 
Painting
Painting concrete and brick surfaces may help to make them less slippery, but this is typically a temporary fix since paint usually peels quickly. This is also not the ideal solution if your driveway tends to freeze in cold weather. 
Rubber mats
Some homeowners use rubber mats on the parts of their driveways that are most used. However, this is not a solution for sliding tyres and can look unsightly if used at the entrance of your property. 
Slip-resistant tape
Slip-resistant tape typically comes in a variety of colors, shapes and forms and is a quick low-cost solution for slippery surfaces. However, with your driveway enduring lots of traffic and different weather conditions, tape will damage and peel quickly.
Invest in durable non-slip coatings 
Whether your driveway is long and straight or slightly curved, non-slip coatings are the ideal solution to add traction to the entire surface. 
Dura Grip is an extremely tough non-slip surface coating designed to provide a highly durable, UV-resistant finish on concrete. It is easy to maintain and is also an excellent product to seal unwanted leaks in floors or grout. Dura Grip is ideal to walk on with bare feet, making it perfect for areas around the home. 
Deck Grip is a non-yellowing, water-based acrylic non-slip sealer for concrete. This versatile product is quick and easy to apply and offers a clear, semi-gloss and barefoot-friendly finish. It is a durable, UV-resistant product able to withstand the elements. Deck Grip is compatible on almost all types of natural stone surfaces where high traction is desired.
Stone Grip is an easy-to-apply anti-slip solution that will dramatically increase traction and improve safety on slippery floors even when wet. With no change in appearance when applied, Stone Grip can be used on a variety of stone floors. 
Further safety methods 
To ensure maximum safety of your driveway, the following steps should be taken in addition to the use of non-slip products:  
Sweep the area often to get rid of any loose particles. 

Add lights along the walkway to ensure the area is well-lit.

Remove any trip hazards or obstacles such as bricks, stones or pot plants. 
Smooth brick and concrete driveway surfaces can enhance the appearance of your home's entrance, but unfortunately, it can also lead to bad accidents. And combined with unpleasant weather, it can be a disaster waiting to happen! If you want to lower the risk of dangerous accidents, start by increasing the surface traction of your driveway. Not only will you enhance the safety around your property, but your driveway may also perform better against the elements. Your home should be the safest place for your family, address the issue of dangerous, slippery surfaces today. 
If you have a question about any of our non-slip solutions or require advice, contact one of the experts at SlipDoctors. We have the experience and knowledge to ensure you invest in the right products. 
---
Share this post
Facebook
Twitter
---
---
---
0 comment