Your Guide to Fixing Slippery Wood Surfaces
Posted by Customer Support on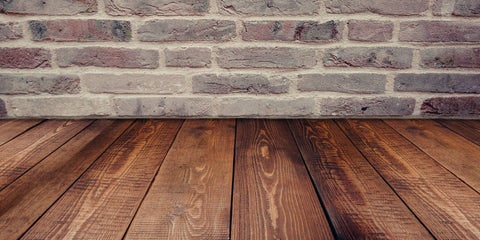 Wooden floors are a popular option for many home and business owners because of its beautiful appearance and versatility to work well with almost all interior decor. However, wooden floors can be slippery and can cause occupants in the home or workplace to slip and injure themselves. Wooden floors may not be slippery once installed but can become slick due to regular use of cleaning products, wax build up or high-gloss finishes. If you're a home or business owner, sleek wooden floors can become a major issue over time; Not only can it lead to loved ones or employees injuring themselves but if it's left untreated, moving furniture and slipping pet paws can also create damaging scratches on the floors. So, the sooner you find a solution for your slippery wooden floors, the lower the risk of a serious accident and the longer you can keep your floors in excellent condition. 
Fortunately, you can reduce the slip factor in one of a few ways. Let's take a look at how you can fix your slippery floors: 
How to fix your slippery wooden floors  
From sanding to non-slip paint for wood, there are plenty of solutions available to help you safeguard your slippery wooden floors. Though, it is important to consider your specific requirements, as well as how effective each solution is, before choosing one. 
Regular cleaning
Regular cleaning is necessary to maintain wooden floors and can prevent the build-up of dirt on the finish which can lead to slipperiness. Ideally, a bristle broom should be used to brush away any debris. While cleaning may assist with keeping away dirt, it may not be entirely effective on its own to avoid dangerous slips and falls. 
Sanding 
Wooden floors are often sanded to remove coats of polish or wax. This may leave your floors looking clean and brand-new, but it's not often successful in adding traction. Therefore, you will require a solution that can add extra grip after you've sanded your floors.
Rugs or mats
Many people believe that rugs or mats are the best way to safeguard slippery floors. However, it is not really effective, as it is usually not fixed to the floor and can easily move. A loose rug is as dangerous as slippery floors! 
Invest in a durable non-skid paint for wood
If you are serious about fixing your slippery wooden floors, it is worth looking into anti-slip paint for wood. These products are designed to add the needed traction to wooden floors and keep it safe for people and pets to use. It will also protect your floors and see your beautiful wooden floor investment lasting for years to come. Grip-paint for wood comes in a variety of options to suit any home or business owner's needs. 
Ideal for both interior and exterior surfaces 
Dura Grip is a high-performance non-slip paint for wood and other surfaces. It is designed to provide a UV-resistant, barefoot-friendly textured paint finish on floors. Dura Grip is easy to maintain and ideal for use on both residential and commercial interior and exterior areas where anti-slip protection is desired.
Don't want to paint your wooden floor?
Wooden floors offer a rich and warm atmosphere to spaces. If you don't want to change the look of your floors by painting it, consider one of the non-slip coatings listed below.
These solutions are ideal for indoor-only applications:
Ideal for bare feet 
Floor Grip is designed to provide a durable high-traction surface that is both scratch and chemical resistant. This effective clear roll-on, water-based urethane sealer is ideal for creating an anti-slip coating on interior wooden floors. It is a great solution for homes where the occupants often walk bare feet or where pets are present. Floor Grip dries in 6 to 12 hours and is an excellent solution for homes and workplaces that require slip resistance and a lustrous sheen. It is available in gloss or matte finish.
Ideal for small, irregularly shaped surfaces
SlipDoctors' Extra Fine Clear Spray anti-slip solution is perfect for use on interior surfaces where slip-resistance is needed. This epoxy aerosol spray provides a clear, hard, finely textured finish on wood and vinyl surfaces. It is virtually invisible, barefoot- and paw-friendly, lead-free and chemical resistant. This spray is convenient, easy to apply and is the perfect solution to treat small or irregularly-shaped surfaces.
Benefits of anti-slip paint for wood
Easy-to-apply

Durable

Affordable
If you have wooden floors or decks in or around your property, it is your responsibility to ensure that floors have sufficient traction. Control slipperiness through effective grip paint for wood and ensure that your loved ones are safe from dangerous slip, trips and falls. 
If you have any questions about your floors or require advice, contact the expert team at SlipDoctors. We have the knowledge and experience to help you find the ideal traction paint for wood for your home or workplace. 
---
Share this post
Facebook
Twitter
---
---
---
0 comment