How To Make Your Outdoor Spaces Summer-Ready
Posted by Dane Ings on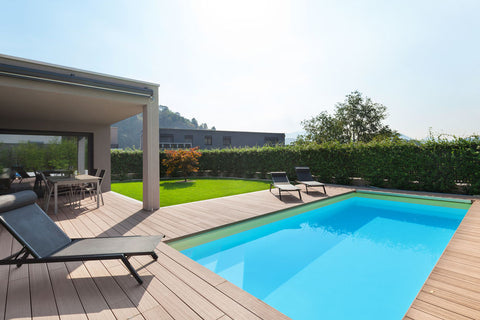 Slippery outdoor areas are an accident waiting to happen. Even the most slip-resistant outdoor surfaces can be vulnerable to moss growth and become more slippery when wet. To avoid slip-and-fall injuries, you need an outdoor non-slip coating solution that will add traction to your surfaces. SlipDoctors explores how you can make your outdoor spaces summer-ready:
Fix slippery pool decks
Having a swimming pool is a great luxury. However, pools come with a lot of responsibility, including maintenance and safety. Safety is most important as thousands of accidents happen around pools every year.
Pool decks are specifically hazardous because they become very slippery when wet. These decks can come in many types, including concrete, tile, travertine, river gravel and more. Several techniques and products can be used to make swimming pool areas less slippery. At SlipDoctors, we recommend Deck Grip:
Deck Grip is a versatile water-based acrylic non-slip coating. It results in a clear, semi-gloss and barefoot-friendly finish that is highly durable. Deck Grip is the perfect anti-slip solution to treat slippery pool decks and all types of stamped concrete decks. It is very easy to apply.
Fix slippery patios
Hot and humid weather can cause patios to become damp. This can lead to slippery surfaces. The following solutions can help you to make your wood, stone or patio tiles non-slip safe:
For wood and concrete
Dura Grip is an anti-slip surface coating specifically designed to provide a highly durable, barefoot-friendly and UV-resistant textured surface. It can be used on multiple types of surfaces including concrete and wood decks. Dura Grip is easy to apply and simple to maintain.
For tiles
Stone Grip is designed to dramatically increase traction and improve safety on slippery floors even when wet. It is an easy-to-apply solution that can be used to achieve non-slippery tiles for outdoor spaces.
You don't want to see a child, an elderly loved one or a friend injure themselves while using any of your outdoor spaces. Slipping and falling on slippery surfaces is a safety issue that you, as a homeowner, are responsible for preventing.
Get ready for summer with outdoor non-slip coating
During the summer months, your outdoor areas are going to get wet, whether from your pool, the sprinkler or your newly installed patio mist kit. However, you can decrease the slipperiness of your surfaces with effective outdoor non-slip coating products and significantly reduce the risk of an injury.
If you're ready to invest in outdoor non-slip coating products for your home, talk to the team at SlipDoctors. We will help you to identify which solution is ideal to achieve outdoor concrete, wood or outdoor tiles non-slip surfaces.
---
Share this post
Facebook
Twitter
---
---
---
0 comment