Invest in a Durable Anti-Slip Solution to Improve Traction on Concrete Surfaces.
Posted by Dane Ings on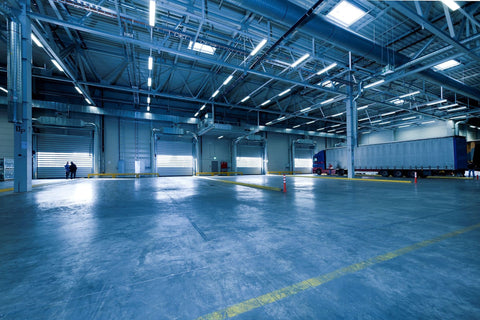 Areas with high moisture or foot traffic can be extremely dangerous when concrete surfaces become slippery. Fortunately, there are several steps you can take to make concrete non-slip. By following these easy steps, you can create a much safer environment and significantly reduce the risk of any accidents.
Clean the Surface: Clean the concrete surface well to remove dirt, debris, and grease before applying the non-slip coating. Use a pressure washer or a stiff brush and detergent to scrub the surface and remove any stubborn stains. Rinse the surface thoroughly and allow it to dry completely before moving on to the next step. It's essential that the surface is as clean as possible to ensure proper adhesion of the non-slip coating.
Apply a Non-Slip Solution: You can find various non-slip solutions available in the market, such as non-slip paint or non-slip sealers. Pick the one that best suits your needs and apply it as instructed by the manufacturer.
Ensure you apply the non-slip solution evenly and completely to the entire surface.
SlipDoctors presents an extensive variety of premier anti-slip coatings, sealants, and paints for interior and exterior concrete surfaces. Slick concrete surfaces can lead to perilous slips, trips, and falls. For some surfaces, it is essential to invest in durable and resistant non-slip coating to increase traction. With our 10 years of experience and customer understanding, we have created a special range of concrete coatings. These coatings are waterproof, low-maintenance, and slip resistant. These solutions are applicable to indoor and outdoor retail, commercial, industrial, and residential environments. Our non-slip concrete solutions are simple to apply and can safeguard areas from slip-and-fall accidents for a few years with our pioneering 2-year warranty.
Explore our anti-slip concrete coatings, treatments, and paint selection, which comprise:
Anti-Slip Concrete Treatment: The first solution in our concrete products range is our anti-slip concrete treatment, Stone Grip. This anti-slip treatment for concrete is our bestseller and can dramatically enhance traction and augment safety on wet and dry concrete surfaces. Stone Grip is easy to apply with a sprayer, microfiber T-mop, or Stone Grip Applicator. The non-slip treatment develops minuscule treads on the concrete surface to boost traction within minutes. Stone Grip is also effective on all porcelain, stone, or ceramic surfaces without changing the appearance.
Anti-Slip Concrete Coating: Seeking an anti-slip concrete sealer? Deck Grip is a non-yellowing, water-based acrylic anti-slip sealer for concrete and other stone surfaces. After the application of the non-slip solution to the slippery concrete, our malleable Deck Grip sealer creates a clear, semi-gloss coating. This anti-slip concrete finish is chemical-resistant, UV-resistant, and particularly sturdy. Deck Grip is the perfect solution to address slippery concrete pool areas, driveways, concrete patios, and natural stone surfaces in which anti-slip protection is necessary.
Non-Skid Concrete Paint: As an alternative to treating or sealing, some might prefer an anti-skid concrete paint which produces a tough, long-lasting, barefoot-friendly textured surface. SlipDoctors offer industry-leading non-slip concrete paint products in multiple color options. The first paint product is Dura Grip, particularly formulated to prevent slips and falls on slippery concrete surfaces and built to endure. This anti-skid concrete paint is excellent for commercial and residential areas and can be used to protect boat decks. The second anti-skid paint product is Tuff Grip, a high-performance urethane anti-slip paint coating designed to generate an aggressive and heavily textured anti-slip effect on a range of concrete surfaces. This product is robust and can survive all kinds of weather. It guarantees a dependably secure anti-slip concrete surface and is suitable for use on loading ramps, walkways, warehouse floors, machine-operating areas, and factory floors.
Drying Time: After applying the non-slip solution, give the concrete ample time to dry completely. This will guarantee that the non-slip coating attaches correctly and provides the highest possible traction.
The drying time will vary depending on the specific product used and the weather conditions. Make sure to stick to the manufacturer's instructions for the recommended drying time. Generally speaking, it's best to allow the concrete to dry for at least 24 to 48 hours before allowing anyone to walk on it. During this time, it is vital to keep the area free from foot traffic and any other possible sources of damage. Once the concrete is completely dry, it will be ready for use and will provide a non-slip surface that is safe and secure.
Regular Maintenance: To preserve the non-slip properties of the concrete, clean the surface regularly and reapply the non-slip solution as required. This will help stop any accidents from happening and keep the area safe for everyone.
It is vital to practice regular maintenance to make sure the non-slip properties of the concrete surface remain intact. This entails regularly cleaning the surface to get rid of any dirt, debris, or other substances that might reduce the effectiveness of the non-slip solution. Clean the surface with a gentle detergent and a scrub brush. Be careful not to use any abrasive materials that could damage the concrete. After cleaning, rinse the surface properly with water to remove any residue.
Follow the manufacturer's instructions for the recommended frequency of reapplication. This could involve applying a new coat of the non-slip solution or using a touch-up product to enhance the existing coating.
Regularly maintaining the non-slip properties of concrete can prevent accidents and create a safer environment for everyone. Make sure to incorporate regular cleaning and reapplication into your maintenance routine to ensure long-lasting non-slip performance.
---
Share this post
Facebook
Twitter
---
---
---
0 comment