How to Fix a Slippery Shower or Bathtub
Posted by Accounting SlipDoctors on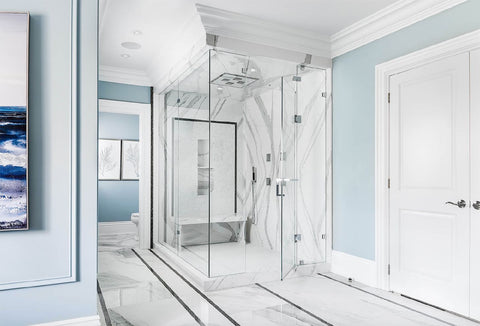 Many people do not think of their slippery bathroom as an issue until a dangerous fall occurs. People slip and fall in bathtubs and showers often. In fact, your bathroom is perhaps the most slippery area in your home. Especially, when wet, your tub and shower surface is a hazard for you, your family and your guests. If you've never treated your bathroom surfaces, it is time to think about ways to safeguard these areas, before an accident occurs. Luckily, there are many solutions to help you fix a slippery shower or bathtub.
How to stop slipping on bathroom surfaces
There are many ways to increase traction on your bathroom surfaces. However, not every solution is effective. It is important to consider every product and method to find a solution that suits all your unique needs. Once you've found the perfect product, you'll have the peace of mind that your family members and guests are safe from serious slips and falls in your bathroom. 
Invest in a new bathtub and shower
If you find that your bathtub and shower is slippery, you can invest in a new tub and shower surface. However, this solution can be highly expensive; labour, along with a new bathtub and shower can cost a fortune! Besides being a costly solution, renovations can also take a long time. This will mean that you will have to make other bathroom arrangements when they are busy replacing your tub and shower. 
Buy non-abrasive tape for your slippery bath or shower
There is some non-abrasive tape on the market that can increase the traction on your bathroom surfaces. However, this may not be an effective solution. These strips of tape may only cover certain areas of your tub and shower surfaces and can wear and tear over time. This means that you will have to replace it often, which can be costly. 
Place a rubber mat in your tub or shower 
For an affordable solution, you can place a rubber mat in your bathtub or shower. This may be a cheap and quick solution, but not necessarily an effective one. Rubber mats can still move on the surface, especially when water runs underneath it, and can lead to dangerous falls in the bathroom. 
Invest in non-slip products for bathrooms
Many anti-slip products on the market can increase the traction of your bathroom surfaces. Prevent slips on bathroom floors and surfaces with the following products: 
Products such as Anti-Slip Spray for Fiberglass and Acrylic and Bathtub Kit Anti-Slip for Porcelain & Ceramic can increase traction within minutes. SlipDoctors takes floor safety seriously and has developed a premium range of non-slip bathroom products. Our products are carefully formulated to achieve the desired results without changing the appearance of the surface.
Anti-Slip Spray for Fiberglass and Acrylic is perfect for fiberglass, acrylic and most other bathroom surfaces. This product is the highest-rated aerosol spray for fiberglass and acrylic found on the market! This spray provides a hard, textured finish to prevent slips and falls. It is also barefoot-friendly and is available in clear and white.
Bathtub Kit Anti-Slip for Porcelain & Ceramic is specially designed to interact with the minerals in porcelain and ceramic surfaces to increase surface traction. One kit covers one bathtub or shower surface and the treatment is easy to use, and only takes about 10 minutes to apply. After one simple treatment, you can relax knowing your shower and bathtub are slip-resistant. 
The CDC estimates that about two-thirds of accidental injuries happen in the bathtub or shower. Do not wait for one of your loved ones to have a serious fall, get non-slip products for your bathroom surfaces and increase traction on entire surfaces within minutes without having to do renovations in your bathroom. 
---
Share this post
Facebook
Twitter
---
---
---
0 comment