How Anti-Slip Paint Additive Can Enhance Safety in Every Space
Posted by Dane Ings on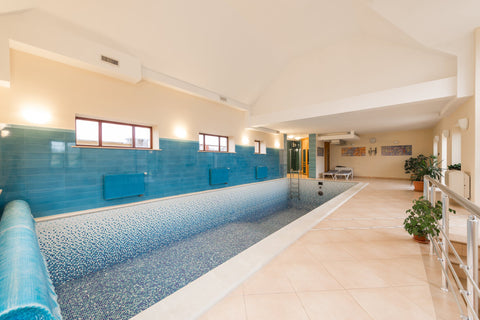 In today's fast-paced world, safety is a top priority for individuals and businesses alike. Whether it's a residential property, commercial space, or industrial facility, ensuring a safe environment is crucial. That's where anti-slip paint additives come into play. These innovative products are specially designed to enhance safety by providing a reliable grip on various surfaces, preventing slips and falls. With their unique formula, anti-slip paint additives can be easily mixed with any type of paint, transforming it into a non-slip coating that offers optimal traction. From staircases and walkways to parking lots and pool decks, this versatile solution can be applied to virtually any surface, both indoors and outdoors. By incorporating anti-slip paint additives into your space, you not only reduce the risk of accidents but also create a more secure environment for everyone. So, why compromise on safety when you can easily enhance it with the power of anti-slip paint additives?
Understanding anti-slip paint additive
Anti-slip paint additives are specialized substances that are added to paint to increase its slip resistance. These additives are typically made from materials such as glass beads, silica, or polymeric particles, which create a textured surface when mixed with paint. The texture provides a reliable grip, even in wet or slippery conditions, making it ideal for areas that are prone to accidents. The anti-slip properties of these additives make them an excellent choice for both indoor and outdoor spaces, as they can withstand various weather conditions.
The effectiveness of anti-slip paint additives lies in their ability to create friction between the surface and the person walking on it. This friction prevents slips and falls, reducing the risk of injuries. Additionally, the texture created by the additives also helps to disperse water, preventing the formation of puddles that can further contribute to slipping accidents. Whether it's a high-traffic area or a space with specific safety requirements, anti-slip paint additives offer a practical and cost-effective solution.
Your requirements are well understood, and we will assist you in selecting the ideal anti-slip additive that best suits your paint.
Extra Grip Clear is the perfect solution for clear paint, coatings and sealants if you need an efficient non-slip additive for paint that will enhance the traction of various surfaces without altering their appearance. Extra Grip Clear is an excellent solution to make surfaces slip-resistant. It's a non-skid paint additive crafted to work efficiently when combined with clear sealers, latex, epoxy or oil-based paints. It creates a strong grip for steps, stairs, garages, walkways, basements, pool decks, patios and more.
Extra Grip for colored paint is a good product option for those who want to improve traction on surfaces while also enhancing their appearance. It works well with different types of paint like epoxy and oil-based paints. It produces a durable grip for steps, stairs, walkways, garages, basements, patios, areas around pools, and more.
Extra Grip Rubber is a non-slip paint additive that works by mixing it into floor paint before application. It makes floors skid-resistant by adding a rubber coating. It can be used with epoxy, urethane, and acrylic coatings that are water- or solvent-based. Great for wet surfaces like boats, docks, bridges, wet rooms, and barefoot areas such as splash pads, as well as other areas where extra grip is needed such as decks, patios, and garage floors, walkways, sidewalks, trailers, stairs and ramps. It is an anti-slip additive for paint that will not change the color of your floors.
Swimming Pool Safety 
If you're considering the idea of repainting or painting a new surface of your pool you can enhance the appearance by applying a new layer of paint specifically designed for pools and make it anti slip resistant.
It is vital to understand which swimming pool paint provides the best quality and durability and while you are taking on this project you must also consider our anti-slip solutions and the additive for paint. 
Pool manufacturers recommend sticking with the original coat if you're reapplying pool paint. Otherwise, the new paint might not adhere to the initial coat, leading to an expensive mess with minimal results.
However, if you're painting on bare concrete, your options narrow down to one: epoxy pool paint. The other popular options, rubber and acrylic pool paint, are thin materials that produce a pebble-like texture on a rough concrete plaster pool surface. On the other hand, epoxy is durable enough to coat concrete and leave a smooth finish.
The use of epoxy paint of superior quality can effectively hide and prevent cracks, provide a durable and glossy finish which is resistant to fading, elevate the attractiveness of your pool, and guarantee years of protection against algae and structural harm. Additionally, this solution will contribute to creating a safe swimming environment. 
To learn more about our products or receive a free quote, call us today.
---
Share this post
Facebook
Twitter
---
---
---
0 comment