The difference between Dura Grip and Tuff Grip: Which one is best for your floors?
Posted by Dane Ings on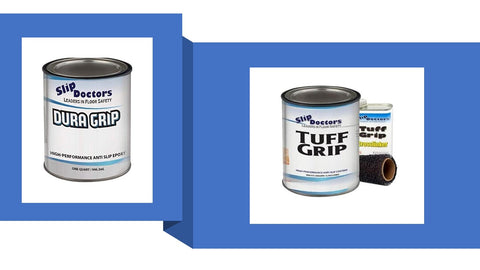 When you require a non-slip coating for floors, you must consider different options as most products on the market have specific applications. These products are also designed to produce different levels of traction and may result in varying finishes. So, prior to coating your floors, you have to determine several things: Is the surface flat or sloped? Are wet conditions present at times? And do you want to keep the look of the current floors? 
To help you understand how diverse coatings can be, SlipDoctors explores the differences between Dura Grip and Tuff Grip anti-slip coatings. 
What exactly are these products? 
Dura Grip is a highly effective non-slip epoxy paint designed to provide a barefoot-friendly finish on a variety of surfaces. This anti-slip paint is ideal for high-traffic areas and leaves a light grit feeling on feet. It is easy to apply with any standard nap roller.  
Tuff Grip is a durable urethane coating specifically designed to provide a highly durable textured finish on different surfaces. This anti-slip coating is resistant to chips, scuffs and impact, and is ideal for use in working environments. It can be applied with a textured roller. 
Which surfaces can be treated? 
Dura Grip can be used on a variety of surfaces including:  
Steel
Fiberglass
Aluminum
Concrete
Asphalt
Painted surfaces
Wood 
Sports courts 
Tuff Grip can be used to treat:  
Metal
Concrete
Previously painted concrete
Wood  
Where can it be used?  
Dura Grip can be used on both indoor and outdoor surfaces. It is ideal to apply on metal ramps, stairs, garage floors, boat decks, locker rooms, pools, laundry rooms and other residential or commercial areas. Dura Grip can also be used to seal unwanted leaks in floors or grout.  
Tuff Grip is ideal for use on interior and exterior loading ramps, factory floors, walkways, warehouse floors, machine-operating areas, truck bed liners, equipment beds and other surfaces where slip-resistance is needed.  
How does the finished application look? 
Dura Grip is available in a variety of colors to suit your specific floor's look. Once dried, this non-slip paint has a semi-gloss finish. 
Tuff Grip is available in ten colors, offering a variety of finished looks.  
What is the drying time?  
Dura Grip takes around 12 to 24 hours to dry. 
Tuff Grip has a quick drying time of just four to six hours.  
Added benefits  
Dura Grip provides a UV-resistant coating and is also water and stain-resistant. Additionally, it is made to prevent corrosion on metal and other surfaces. 
Tuff Grip offers added UV protection and increases chemical and corrosion resistance. 
Find the ideal coating 
There is a variety of anti-slip coating and paint products on the market, each with its own applications and benefits. If you're considering treating your floors, it is advisable to do some research to find out which will best suit your surfaces.  
Need help finding the right option? Talk to the team of experts at SlipDoctors. We will help you to find the perfect solution for your floors.
---
Share this post
Facebook
Twitter
---
---
---
0 comment