Treating slippery travertine pool decks
Posted by Customer Support on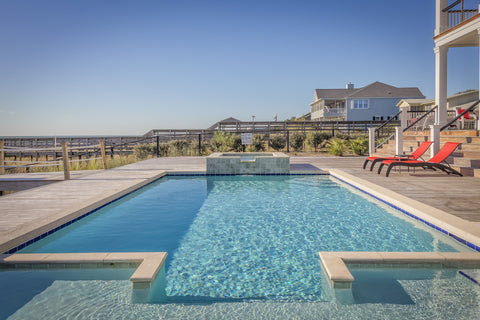 A pool at home is the ultimate form of relaxation. But pools come with a lot of responsibility, as slippery pool decks can lead to serious accidents. Therefore, it has to be cleaned often and requires highly effective safety measures.
Discover our line of products specifically formulated to effectively treat and combat slippery surfaces underwater.
Anti-slip coatings for travertine pool decks 
Your swimming pool area is like a mini oasis at your home and, therefore, you want it to have plenty of aesthetic appeal. In recent years, travertine pool decks have become a favorite among homeowners. It is durable and offers a luxurious look. Unfortunately, few people consider how slippery this type of stone can be, as it is often advertised as a low-slip product. However, travertine's surface is sleek and anyone can have a slip-and-fall accident, especially around the pool where wet conditions are often present. The last thing you want is to watch an elderly friend or your little one injure themselves around your pool. Slipping accidents is a serious risk that you, as a pool owner, are responsible for preventing. So, if you have a travertine pool deck, safeguarding the surface should be your main priority.  
How can you increase traction on your pool deck's surface? 
There are several non-slip coating products available, however, not all of them are effective. At SlipDoctors we offer Deck Grip, a long-lasting anti-slip coating designed to increase grip fast. No longer do you have to struggle with rubber pool mats or have your pool deck remodelled. Deck Grip is one of the quickest and most affordable treatments for travertine pool decks that will not change the appearance of your beautiful pool area. 
About Deck Grip – clear indoor and outdoor non-slip sealer for concrete
Deck Grip is a versatile non-slip coating ideal for treating slippery travertine, concrete and other stone pool decks. This non-slip coating offers a clear, semi-gloss finish. It is highly durable and will not turn floors yellow over time. What makes Deck Grip even more valuable is that it is UV resistant, so it won't wear and tear in the sun. It is also barefoot-friendly, allowing your friends and family to use the pool deck with confidence. 
Deck Grip is easy to apply and require just two thin coats for best durability and slip resistance. With Deck Grip, your slippery travertine floor or pool deck's resistance will surpass testing standards.
Benefits of Deck Grip
Top-quality

Quick and easy to apply 

Affordable 

Chemical-resistant

UV-resistant 

Barefoot-friendly 

Durable
Invest in the best anti-slip coating
Your pool area is ideal to spend time relaxing with loved ones. To keep them safe while having fun, you have to ensure your pool deck is slip-proof. Don't wait until a serious accident occurs, act now and use your pool with complete peace of mind. Our range consists of 
anti-slip coatings for travertine pool decks
 and other surfaces, simply evaluate your needs and find a suitable solution.
Should you have questions about our treatments for travertine pool decks or require advice on the right product for your floors, you are welcome to contact our expert team. 
---
Share this post
Facebook
Twitter
---
---
---
0 comment