$16.4M Verdict Drills Lowe's in Slip and Fall Head Injury Trial
Posted by Kevin Kohleriter on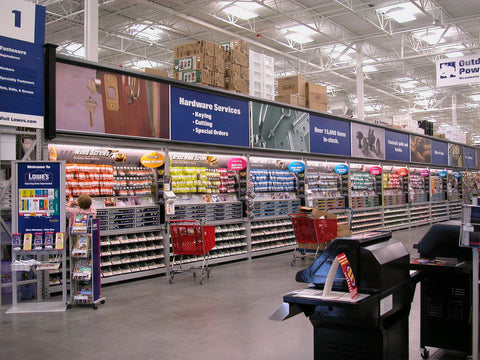 Originally published Sept 16, 2016  in Courtroom Verdict News, Las Vegas—Jurors Friday awarded more than $16.4 million to a Lowe's patron who suffered permanent head injuries from a 2013 fall at one of the company's stores. Hendrickson v. Lowe's Home Centers LLC, A-13-687418-C.
The award came as jurors concluded the company's negligence caused Kelly Hendrickson to slip and fall in water in the garden department of its South Fort Apache Street store as she was looking at palm trees. Hendrickson, whose head struck the concrete in the fall, permanently lost her senses of taste and smell among other injuries.
Hendrickson, 41, contends she didn't see a caution cone warning of spillage while the store watered the area's plants, and she claims the company failed to do enough to protect its patrons from falls.
Friday's award, which followed about six hours of deliberations, includes $1.9 million in medical expenses and $14.5 million for Hendrickson's pain and suffering.
However, the jury rejected Hendrickson's claim for punitives and found her 20 percent responsible for the fall, likely reducing the post-verdict award to about $13.1 million.
Friday's decision caps an 11-day trial that focused largely on the events surrounding Hendrickson's fall and the adequacy of the company's safety policies.
Hendrickson's legal team argued evidence established she fell because Lowe's failed to prevent her from stepping in the water or adequately signal her of the danger.  Sean Claggett, of Claggett and Sykes, claimed Hendrickson didn't see the cone in time to avoid the fall because the cone was placed in the water and obscured by the corner of a taller planter table.
Arguing the ease with which Hendrickson could miss seeing the Lowe's cone, Claggett pulled a similar cone from behind the witness stand midway through his closing statement. "You all walked in this courtroom today, and you didn't see this. Nobody saw it," Claggett said, as he showed the cone. "And you know why? Because it was obstructed."
Claggett also claimed testimony from Ron Love, who said he saw Hendrickson jumping near the cone  before she fell, was undermined by the fact Love saw the accident out of the corner of his eye from across a parking lot and incorrectly remembered the color of the caution cone. "If you're that certain that the cone is orange [when it was yellow], are you really certain she was trying to jump up and [then fell] down? Or do you think, and use your common sense again, what he really caught… out of his peripheral vision is just [Hendrickson] going backwards. And when you think about Kelly Hendrickson's injuries…, that makes sense."
However, Lewis Brisbois' Esther Holm, representing Lowe's, countered Love, the accident's only eyewitness, was firm in recalling Hendrickson jumped and knocked the cone over as she fell. "He saw the whole thing. He thought that she had tried to jump over the cone," Holm said.
"It's hard to imagine a better warning of something on the ground than being so close to the cone that you yourself knock it down."
Holm contended the cone and the water surrounding it were open and obvious, and showed jurors a photo of the accident area, in which the three-foot cone stood directly in front of the 2-to-4-foot palm trees Hendrickson claims to have been looking at just before she fell. "You can ask yourself how somehow she did not see the cone when she would have been walking toward it," Holm said, "facing right in front of it."
Holm told jurors the chain's use of cones in its garden departments was one aspect of an in-depth safety policy that included regular inspections and use of slip-resistant surfaces. Holm argued statistics showed patrons stood a one- in-a-million chance of falling at the Fort Apache Street store. She noted three people fell at the store, for a variety of reasons, in the last five years, a record she described as nearly perfect. "Perfection is well beyond a reasonable person standard that the law requires," Holm said.
But Claggett contended Lowe's accident records showed at least 28 falls in the last five years among 13 stores in the area. He argued the statistics, combined with the chain's failure to add additional safety measures such as water drains or barricades, showed the company failed to protect its customers. "After a couple of times you've got to get it right, man, you can't keep getting it wrong. Get it right. They're still not getting it right because they don't care about it," Claggett said.
"They can't hurt somebody bad enough to change. They can't," Claggett told jurors, before requesting more than $41.5 million in damages and a finding of punitive liability.
"The only thing standing between that behavior continuing and stopping, is your verdict."
Neither the parties' attorneys nor Lowe's representatives could immediately be reached for comment.
Original article published on http://blog.cvn.com/16.4m-verdict-drills-lowes-in-slip-and-fall-head-injury-trial . Email Arlin Crisco at acrisco@cvn.com.
---
Share this post
Facebook
Twitter
---
---
---
0 comment