What is Anti-Slip Paint and When Should it be Used?
Posted by Customer Support on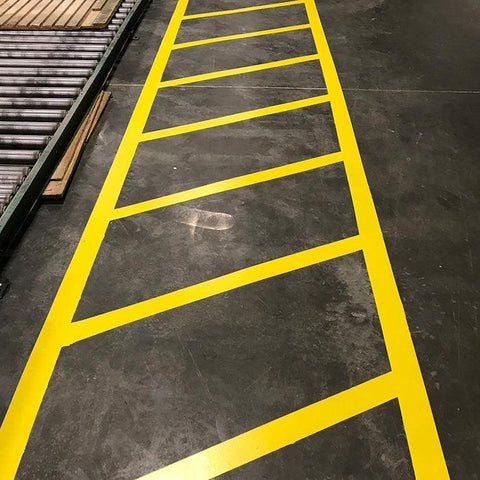 You may have heard of or even used anti-slip paint without knowing exactly what it does. If you are a home or business owner or manager, it is highly valuable to learn more about this product and its benefits. If you look at the floors in and around your home or business, you are bound to find some areas that are smooth and sleek which can lead to slip, trip and fall accidents. It is important to note that wet floors are not always the cause of accidents in homes and businesses, clutter and dirt can also increase slips and falls. This is where anti-slip or non-skid paint comes in. Anti-slip paint was designed to be applied to surfaces to increase grip – no matter the conditions. Many home and business owners are not aware of exactly how slippery their floors are and leave it untreated. Unfortunately, this can lead to extremely dangerous accidents. Coating your floors is a simple, effective and lasting solution for slippery surface issues. 
When you are ready to treat your floors, you are likely looking for a product that does more than just add grip to your floors. For example, you may also be looking for a coating that gives a clean or glossy finish or a specific color. Therefore, you have to know exactly what the different anti-slip products on the market do and consider your needs before you buy a product. Here are a few things to keep in mind before you treat your floors:  
Which surfaces can be treated with anti-slip paint?
You will find that there are plenty of specialized anti-slip paint products on the market each designed to treat a specific type of flooring. From tile and stone floors to slippery wood surfaces, you will find a non-slip paint product that perfectly suits your requirements. 
What to keep in mind when choosing a non-slip paint
When you decide to treat your floors, you have to look for a product that not only suits your type of surface but one that is made from durable, quality ingredients that will last you for years to come. You should also keep the application method, as well as the drying time of a product in mind. You don't want to spend days or even weeks applying a product that also takes forever to dry! 
What are the different types of anti-slip paint? 
There is a large range of anti-slip paint products available on the market, each with different benefits. Some products increase traction through a bumpy effect of small particles in the coating, while some offer a smoother texture through a thin, clear non-skid coating. When you decide to coat your floors with anti-slip paint, choosing the right one can be overwhelming. Therefore, it is important to do some research before you buy. Two of the most popular products include: 
Non-slip epoxy paint 
Specifically designed to provide a tough and long-lasting barefoot-friendly textured finish, this type of oil-based anti-slip surface coating is ideal for steel, fiberglass, aluminum, concrete, wood, tiles and natural stone surfaces.   
Benefits of this type of coating 
Can be used on multiple types of surfaces 
Easy-to-apply 
Long-lasting 
Increase grip even when wet 
Chemical-resistant 
Creates a barefoot-friendly finish 
Available in several colors 
Affordable 
Urethane non-skid paint coatings 
This type of non-slip paint product is designed to offer a stronger, deeply textured non-skid finish. It can be used on a variety of surfaces including walkways, warehouse floors, loading ramps, machine-operating areas and factory floors.
Benefits of this type of coating 
Can be used on multiple types of surfaces 
Easy-to-apply 
More aggressive 
Can withstand all weather conditions 
Perfect for commercial and industrial surfaces 
Available in several colors 
A proper evaluation of your property's floors is essential to help you choose the right product. If you require advice, it is wise to contact an expert with knowledge about different types of flooring and non-skid paint products. 
Whether you are the owner of a home, business or industrial property, you have to keep the slipperiness of your floors in mind. Untreated sleek floors can be a danger to your loved ones, employees and guests or customers. It is your responsibility to create a safe home or workplace. Investing in durable non-slip paint is the perfect solution to your slippery floors. Look for a product that fits your needs and will keep your surfaces safe for years to come.  
---
Share this post
Facebook
Twitter
---
---
---
0 comment