Your Guide to Non-Slip Solutions for Underwater Surfaces
Posted by Dane Ings on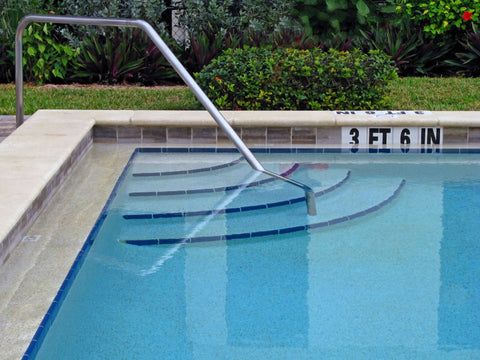 The surface of your pool steps, hot tub or spa is designed to be smooth for the water to collect correctly and to be more comfortable against your skin. But this design can make it easy to slip. To avoid a slipping accident, you must invest in the right underwater non-slip solutions.
Today, there are many solutions available that you can use to increase slip resistance on surfaces. But before you choose one, it is important to consider a few key factors.
Key factors to consider when choosing underwater non-slip solutions
Underwater surfaces can be straight or curved. This can influence the type of underwater non-slip solutions you require. Curved or sloped surfaces may need more slip resistance compared to those that are completely level.
The material your pool steps or hot tub is made from can also affect the product you choose. Pool steps are often made from vinyl, fiberglass, or concrete, while hot tubs and spas are usually made from fiberglass. Some surfaces feature tiles, so you have to find a specific product designed to increase slip resistance of tiles underwater.
Products to consider to treat slippery underwater surfaces
Combined with the design and material of your underwater surfaces, you also have to keep in mind that these surfaces are sometimes exposed to chemicals, including chlorine, or soap in spas. SlipDoctors have two products that are designed specifically for these types of surfaces. Let's explore which one is best for your needs:
Anti-Slip Spray

is the highest rated aerosol spray for fiberglass/acrylic found on the market! SlipDoctors Non-Slip Spray is an epoxy aerosol that provides a hard, textured finish to help to prevent slip-and-fall accidents. It is barefoot friendly, lead-free, and chemical, gas and oil resistant. It is ideal for both interior and exterior surfaces, it is designed for areas where water is present or slippery conditions exist such as fiberglass and acrylic bathtubs and showers, properly prepared wood, concrete, metal, tile, porcelain/ceramic and many other surfaces. This non-slip spray can also work on the surface when fully submerged if the surface is properly prepped. The prep includes three coats and 72 hours of cure time.
Stone Grip

is a versatile anti-slip tile and stone floor treatment that will dramatically increase traction and improve safety on slippery floors even when wet. Easy to apply, Stone Grip is ideal for any indoor or outdoor situations for use on all porcelain, stone or ceramic surfaces with no change in appearance. Very effective for submerged or underwater flooring, like pool steps and hot tubs.
Keep underwater surfaces clean
Remember that no matter if you use the most powerful anti-slip solution, if your underwater surfaces are not kept clean, they will stay slippery. Therefore, it is important to always ensure your pool steps, hot tub or spa are in good condition and cleaned regularly.
Have a question?
If you are ready to increase the slip resistance of your underwater surfaces, but are unsure about the right products for your needs, talk to the team at SlipDoctors. We will help you to find the right product to treat your pool, tub or spa.
---
Share this post
Facebook
Twitter
---
---
---
0 comment