TCNA announces new product testing for the Uniform Swimming Pool, Spa, and Hot Tub Slip Resistance Code
Posted by Dane Ings on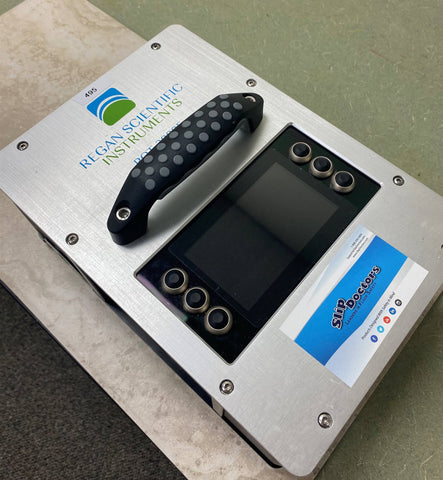 Tile Council of North America (TCNA), a trade association representing manufacturers of ceramic tiles and other tile-related products, recently announced the approval of measurable walkway safety standards for pools, spas and hot tubs by the International Association of Plumbing and Mechanical Officials (IAPMO).

For the first time, the 2021 Uniform Swimming Pool, Spa, & Hot Tub Code (USPSHTC) now offers specific criteria and an essential test method for the slip resistance of surfaces where wet conditions are present. This is a welcoming change for property owners and developers.
The process of improvements made to the code

Bill Griese, TCNA's director of standards development and sustainability initiatives, led the USPSHTC Slip Resistance Task Group to develop improvements to the code language. These improvements were proposed to the public for comment, which after it has been approved by IAPMO's Swimming Pool, Spa and Hot Tub Technical Committee, and became part of the USPSHTC.

Griese commented on these changes, "IAPMO's decision to incorporate the recommended code language provides code officials, inspectors and specifiers, among others, with model code criteria they have not had before to appropriately assess walkway surfaces that are intended to be slip-resistant."


Improvements to the code

The changes to the code include:

•    A required wet dynamic coefficient of friction (DCOF) value of no less than 0.42 for even walkway surfaces where wet conditions are present, as defined following the current ANSI A326.3 standardized test method.

•    A corrected minimum DCOF requirement for inclined or sloped walkways that need more friction to avoid slipping.

•    Guidance for testing on walkways that are three-dimensionally profiled or patterned.

•    An appendix offering further information about the determination of DCOF values for hard-surface walkways that must be slip resistant.

What the code says about three-dimensional or textured surfaces

The code states that testing should be done on a nominally level part of three-dimensional or textured walkways. If this is not possible, the code notes that the correct documentation must be in place to justify the product choice.

The introduction of the German Ramp Test

To meet the above-mentioned code requirement, TCNA suggests a recognized international standard, DIN 51130, for testing product slip resistance with humans on a sloping plane. This is often referred to as the "German Ramp" test. Until now, this test has not been available for order in the United States.

TCNA's director of laboratory services, Katelyn Simpson states, "TCNA's Product Performance Testing Laboratory is a leader in U.S.-based slip resistance testing and research through our work with standards developers, manufacturers, specifiers, distributors and design professionals. Drawing upon decades of experience with our German Ramp, we are pleased to now offer this testing to others."

Slip testing for property owners and developers

Property owners or developers who have to measure the coefficient of friction (COF) to determine the slip resistance of a surface, can order or rent the BOT-3000E. This is a user-friendly, digital tribometer used for both laboratory and real-world environments. It can perform tests without any human input, except for the pressing of a button. The ANSI A137.1 and the ANSI A326.3 test (DCOF test methods) are both performed using the BOT-3000 E.

To receive more information or to order testing equipment, contact SlipDoctors.


---
Share this post
Facebook
Twitter
---
---
---
0 comment