How to Fix Slippery Tiles in and Around Your Home or Workplace
Posted by Brian Teitell on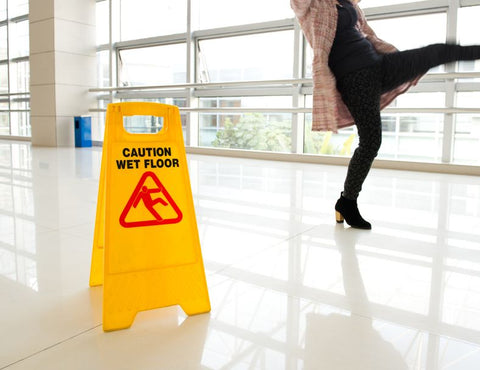 Did you know that tiles, including porcelain, marble and granite tiles, in your home or workplace can be a safety hazard? If not treated correctly, tiles are especially slippery, when wet and dry, and can lead to severe slips and falls. It is important to understand the risk involved to anyone, including children and the elderly, using areas with untreated tiles. Luckily, there are a number of ways to make tiles slip-proof. Not only can you improve traction by adding slip-resistant materials to your floors, but you can also invest in a variety of non-slip tile coating products.

Tiled floors should always be kept clean, especially before treating it with anti-slip products. Keeping the floor clean of any debris will already reduce the slipperiness thereof. Let's look at a few ways you can further reduce the slipperiness of your floors in and around your home or workplace.

If you are not concerned about changing the look of your floors, try one of these methods:

Use rugs and runners or carpet the entire floor

Add rugs or fabric runners to slippery tile areas or carpet the entire floor. Carpets with rubber on the bottom will stick to your floor and reduce the risk of serious slips and falls. Adding carpets to your floors is a quick and easy solution but do require regular cleaning, especially in areas that are used often.

Install floorboards over tiles

Floorboards are often made from artificial wood blocks or strips and is an affordable solution to slippery tiles. These boards will change the look of your floors completely. Floorboards are easy to install and are an economical solution to slippery tiles, however, it does require regular maintenance.

Add foam pads to tiled areas

Foam pads can be bought in big blocks or strips, as well as in a variety of colors. Foam pads create a soft, barefoot-friendly surface. These pads do require to be changed frequently, especially in areas that are used often, and can be expensive should it be replaced regularly.

If you are looking to keep the aesthetic of your tiled-floor areas, look at anti-slip treatments for tiles. Anti-slip products don't usually change the look of your tile, are economical, requires very little maintenance and are safe to use on a wide variety of tile types.

Use anti-slip coatings for tiles

There are a variety of anti-slip products on the market that can dramatically increase traction on your tiles. Stone Grip is a highly effective non-slip tile treatment solution that is quick and easy-to-apply, with a sprayer, microfiber T-mop or Stone Grip Applicator. Stone Grip goes on clear – with no change in appearance to tiles, so you can keep the look of your floors.


Deck Grip anti-slip tile coating can be used on both indoor and outdoor slippery tiled surfaces. This quality coating product is the perfect solution to treat tiled pool decks, patios and balconies. Deck Grip is effortless to apply and results in a beautiful clear, semi-gloss and barefoot-friendly finish.


If you are looking for increased traction on your tiles that improves resistance to spills and stains, go for Polish Grip. This effective product can be applied with a clean towel, microfiber towel, paint roller/brush or the Polish Grip Applicator on indoor and outdoor tiles and once applied, forms an invisible barrier that increases traction dramatically.

Slippery tiles are not only a nuisance, but they can also cause serious injuries. It is your responsibility to ensure that your floors have the needed traction to avoid any accidents. There are many ways to fix this problem, find a solution that suits all your requirements, as well as your pocket.

Should you require advice or have questions about your tiled floors, talk to the Team at SlipDoctors
---
Share this post
Facebook
Twitter
---
---
---
0 comment