Alpha Grip: an Eco-Friendly and Effective Anti-Slip Solution
Posted by Dane Ings on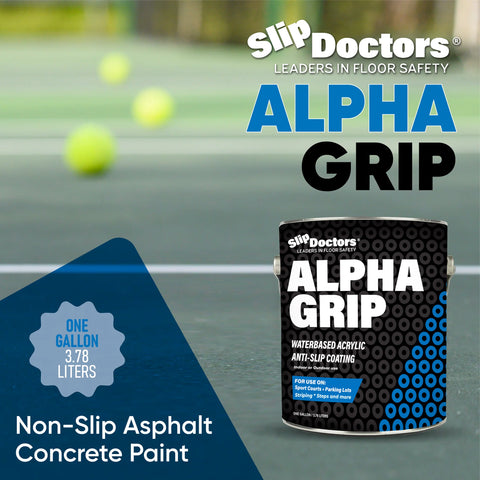 Many home and business owners are not always aware of exactly how slippery the floors in and around their property are and leave them untreated. This can lead to dangerous slip-and-fall accidents. 
Areas such as parking lots, basketball courts, tennis or pickleball, as well as patios and steps and stairs, are among the most dangerous areas because moisture can be present or the surfaces can be uneven.
Luckily, there are many easy ways to treat slippery floors today. Anti-slip striping or court paint and other non-slip coatings exist to enhance traction on floors quickly and effectively, leaving them safe for everyone to use. 
If you're looking for durable non-slip paint for concrete and asphalt, that is also eco-friendly, Alpha Grip is your answer. 
What is Alpha Grip anti-slip striping and court paint?
Alpha Grip is a non-slip paint that has been developed to create an eco-friendly, cost-efficient and reliable slip-resistant coating on floors, stairs or pavements. This durable waterborne product has a grit textured finish that comes in a range of colors.. 
Where can Alpha Grip be used? 
Alpha Grip has a long list of use cases and can be applied to concrete, asphalt, brick, and most natural stone both indoors and outdoors.
It produces a textured finish that has a high tolerance to wet conditions, making it a great option exterior use. The grip texture is also a good option to help pets from slipping in and around a property. 
Is it easy to apply? 
Alpha Grip is very easy to apply. It can simply be rolled on surfaces and will be dry in one to two hours and be fully cured in just 24 hours.
Have a question? Need some advice?
We are ready to answer your question and offer you the best advice. 
---
Share this post
Facebook
Twitter
---
---
---
0 comment