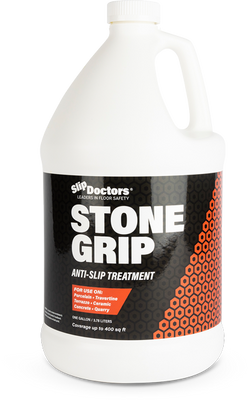 Stone Grip
Our best seller! Stone Grip Non-Slip Tile Treatment for Porcelain Tiles, Ceramic Tiles & Stone Floors. Stone Grip anti-slip tile and stone floor treatment will dramatically increase traction and improve safety on slippery floors even when wet. 
Stone Grip is an easy to apply slip solution with a sprayer, microfiber T-mop or Stone Grip Applicator. Follow the instructions to clean and dry the floor, apply the anti-slip grip treatment and rinse it off. Stone Grip anti-slip coating creates microscopic treads to increase traction on tiles, concrete and stone floors in minutes.
Testing was performed at SlipDoctors office using a BOT-3000E. Please contact us for detailed test results. Actual results may vary. Stone Grip is ideal for any indoor or outdoor situations for use on all porcelain, stone or ceramic surfaces with no change in appearance. Very effective for submerged or underwater flooring, like pool steps and hot tubs.
Suggested Accessories
Customer Reviews
I am really impressed with this product. We had porcelain tiles at the entrance of our facility that got really slick when it rained. I bought the product and applied it exactly like it said and the results were amazing. No matter how wet the tiles get you still have good traction to prevent a slip and fall. Very Impressed and would definitely recommend to anyone!
Excellent product for LFT curbless showers. Easy application and detailed instructions. Traction level achieved is amazing. Will use again and again!! Highly recommend for porcelain tile shower floor application.